Autorun MAX! – Autorun CD/DVD Menu Creator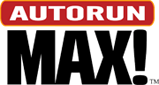 Autorun MAX!™ 2.4 gives you the power to create professional looking autorun / autoplay menus for use on CD's and DVD's. And you don't have to be a software programmer to do it. With its intuitive workspace and drag-and-drop objects, it's quick to learn and easy to use.
Simply add content such as photos, videos, music, and text to your pages and position them using your mouse. Then make your project completely interactive using our simple "fill-in-the-blanks" style system. From opening documents, to running programs, viewing websites and sending email, it couldn't be easier!
The Original CD/DVD Autorun Menu Maker

Autorun MAX!'s pedigree is impressive indeed. It was born of AutoPlay Media Studio's legendary code-base, in order to satisfy the needs of developers wanting a dedicated tool for making CD/DVD autorun menus. With built-in support for video, photos, text, buttons and music, it's focused and ready for action!
Designed so that even non-programmers can use it, Autorun MAX! is the fastest and easiest way to create visually-impressive multimedia autorun menus for software, training applications and presentations.
Completely Visual – No Programming Required

With its easy-to-use visual design environment, you don't have to know a thing about computer programming. If you can use a mouse, you can create dazzling projects with Autorun MAX! Once you have your graphical layout ready, you can bring it to life with just a few more clicks.
Our simple "fill-in-the-blanks" style wizard walks you through running programs, adding web links and viewing documents. It can launch any kind of file, from executables and installers to PowerPoint, PDF, Word and Excel documents. It can also open web browsers, email programs and much more.
Rock-Solid Reliable Autorun Applications

Let's face it – there are a lot of choices out there when you type 'autorun menu maker' into Google. Some even look pretty good when you read their website. Dig deep though and see who's backing that software. Do you really want to trust your hard work to a company and product you know nothing about?
We've been making autorun menu software since Windows 95. Heck, we invented the category with the legendary AutoPlay Menu Studio. Our commitment to quality can be found on hundreds of millions of autorun CD's and DVD's…
Ready-to-Use Templates for Autorun Menus & More

One of the features which makes Autorun MAX! so quick and easy to work with is the included library of ready-to-use project templates. We've included templates for all of the popular autorun CD/DVD projects like basic autoplay menus, electronic business cards and much more.
To apply a template simply select it in the new project dialog and Autorun MAX! will do the rest. All you have to do is substitute your content for the placeholder content and publish. Autorun MAX! templates guarantee professional autorun CDs for anyone, in just a few clicks!
Easy AutoPlay CD/DVD & Web Publishing

Whether you prefer to distribute your projects via email, CD, DVD, internet download, or even a CD ISO image, Autorun MAX! makes it a breeze with the handy Publishing Wizard. With just a few clicks you can generate all the files you need to get the job done quickly and correctly.
Autorun MAX! can even directly burn your autorun CD's without any need for external burning software. The Autorun MAX! Publishing Wizard is clearly laid out and very easy to use, even if you have no prior experience creating your own autoplay discs.
100% Compatible with Windows 98 through Windows 10

Create your autorun CD-ROM or DVD-ROM using Autorun MAX! and rest assured that it'll work when your customer or client inserts it into their disc drive. We've gone to great length to make it compatible with the latest Windows versions, plus the legacy operating systems still in use.
Autorun programs created with Autorun MAX! will work on Windows 98SE, Windows ME, Windows 2000, Windows XP, Windows Vista, Windows 7, Windows 8, Windows 8.1 and now Windows 10. Don't let your choice of development tool limit your market!
Or Upgrade to AutoPlay Media Studio…
If you need even more power, features and full control over your autorun app development, consider our professional tool AutoPlay Media Studio. It's the industry standard AutoPlay app development system for a reason…
Explore the Features of Autorun MAX!
Autorun MAX! makes it easy for anyone to create professional looking CD-ROM/DVD-ROM autorun menus. With its easy-to-use visual design environment, you don't have to know a thing about computer programming.