MSI Factory includes all the advanced installer capabilities you want, plus the next-generation power of WiX, an intelligent development environment, a revolutionary fully scriptable .EXE bootstrap wrapper with LZMA compression, 300+ actions including HTTP downloads and access to world class technical support. We make the task of creating professional MSI format software installers faster, easier and hassle-free.
Project Wizard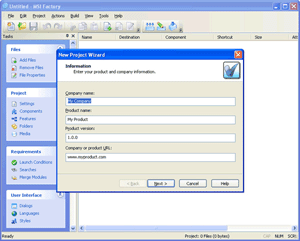 When you start a new project, MSI Factory's project wizard walks you through the first few steps of project creation. After gathering some key information about your application the project wizard generates a complete working project.
Design Environment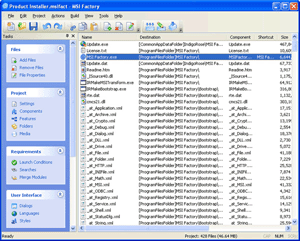 MSI Factory keeps things simple. The main screen contains an intuitive list view of the files and folders that will be included in your installer. The task bar along the side provides quick access to all of MSI Factory's features.
Dialog Editor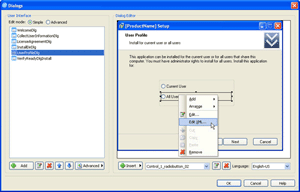 Dialogs in MSI Factory are fully customizable using the built-in Dialog Editor. Whether you choose to use the included pre-made dialogs or create your own, MSI Factory is up to the task.
Component Manager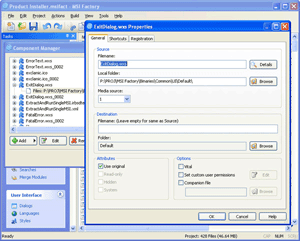 Add, remove, and edit components in your installer using the built-in Component Manager.
Features Manager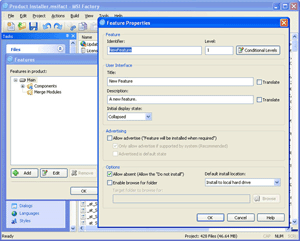 The Features dialog allows you to add, edit and remove features as well as to organize your components and merge modules into features. You can even make features belong to other features.
Project Settings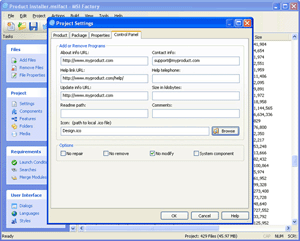 Use the Project Settings dialog to adjust your project wide settings including your company information and your product's MSI product code, what information will be available in the user's control panel Add or Remove Programs dialog, and what information will be entered into the Property table of the MSI database.
Merge Modules
This dialog lets you include merge modules with your installer. Merge modules are pre-configured MSI databases usually distributed by third-party component vendors for their components. In general, if you are distributing someone else's component, you should use their merge module to do so.
Launch Conditions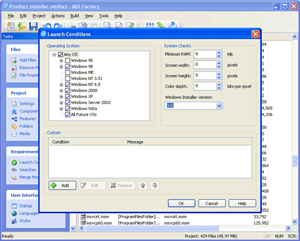 This dialog lets you specify launch conditions for your installer that must be met in order for the install to continue.
Registry Settings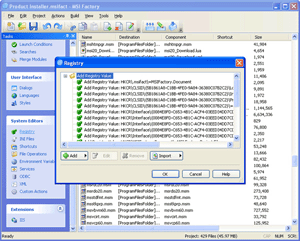 This dialog lets you configure changes that will happen to the registry during installation. You can add, remove, and modify registry keys and values, and you can import registry values from various sources.
File Properties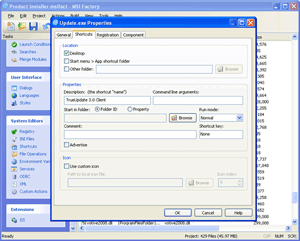 Using the File Properties dialog, you can adjust the properties of every file listed in your installer. You can tell MSI Factory to automatically create a shortcut on the desktop, in the start menu, or in a custom folder. You can also configure a custom icon, and specify command line arguments for each file.
Build Settings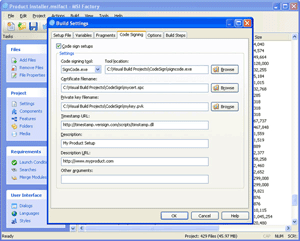 Using the Build Settings dialog, you can configure exactly how your MSI project file is built. Options include output location, Microsoft Code Signing settings, code fragments, and build variables (expanded at the pre-processor stage).
Dependencies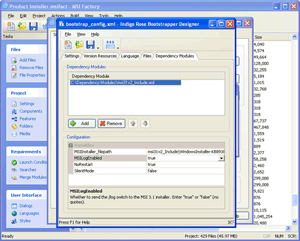 In MSI Factory it is easy to create a list of dependencies required by your installer by including Dependency Modules. Dependency modules are pre-built collections of files and scripts that detect and install third-party applications that must be installed before your software is installed.