TrueUpdate makes it easy to add a reliable "check for update" feature to your software applications. You get everything you need to handle even the most sophisticated software updating requirements. The client executable is extremely easy to integrate into your product (taking most developers only a few hours) and can be integrated into existing software or installed as a standalone application.
Some features of TrueUpdate include…
Easy Licensing
Simple royalty-free, per-developer license doesn't scale up in cost no matter how many products or end users you have.
Easy to Integrate
As a compact and standalone executable, the TrueUpdate Client application is extremely easy to integrate into software. A typical software developer can have it done in only a few hours.
Dynamic Control of Client Systems
Once the TrueUpdate Client application is installed on a computer, you have everything you need to ensure that the system is always up-to-date with the latest software and patches. Operating in conjunction with a TrueUpdate Server connection, the client software can be continually modified and reconfigured to carry out whatever system modification you require. This puts you in full control and affords you flexibility that other products simply cannot match.
Powerful Scripting Engine
TrueUpdate is built on a powerful scripting engine that includes more than 250 high-level actions, featuring everything from registry editing and file copying to web file downloads and much more. An Action Wizard even helps you write the script!
Flexible Architecture
Fully compatible with any update/patching method, from full setups and self-contained binary patches to downloading and extracting from zip files.
Private & Secure
All configuration data is automatically compressed and encrypted. The client pull architecture avoids the legal privacy concerns of competing server push architectures.
Open Protocols
Uses trusted, dependable standards you already rely on (such as HTTP, HTTPS, and FTP), eliminating the need for specialized and costly hardware and software platforms.
You Control the Server
Other products lock you into using their servers; with TrueUpdate, you decide where your update files are hosted. There is no need to rely on the uncertain future of an "update service," pay exorbitant annual fees or wait helplessly during downtimes you are powerless to resolve.
Scalable and Fault Tolerant
Complete support for redundant servers is built right in, and full control over the underlying server technology means that you can tailor load-balancing to meet your specific requirements.
International Language Support
Integrated language selection is built into all screen dialogs, making it easy to create multilingual client interfaces and modify translations at will.
Lightweight and Self Contained
The TrueUpdate client is compact, optimized, and completely self contained. There are no external dependencies or extras to distribute.
Stand-alone or Embedded
The client can easily be integrated into existing software or installed as a standalone application.
Fully Compatible
Update systems created with TrueUpdate 3.7 work on all popular Windows operating systems, including Windows 8.1, Windows 8, Windows 7, Windows Vista, Windows XP, Windows Server 2012, Server 2003, 2000, ME, 98 and even Windows 95.
Customizable
A library of over twenty different screens and a complete graphical skinning system makes it easy to control the user interface.
Automates Complex Tasks
TrueUpdate is built on a powerful scripting engine that is capable of quickly processing any of the more than 250 included high-level actions. Featuring everything from registry editing to file copying to web file downloads, this complete scripting environment contains everything you need to automate complex tasks and handle even the most sophisticated software updating requirements.
Reduces Costs
Automating the update process saves considerable time and expense. For software vendors, it reduces support costs by making it easier for your users to keep their software up to date – giving your tech support department fewer legacy support issues to deal with.
Works with Any Patch/Install Builder
TrueUpdate works with your choice of installation and patching tools. For a complete and fully integrated end-to-end solution, we recommend choosing Indigo Roses Setup Factory and Visual Patch; however you're certainly not locked into doing so. If your company has standardized on other install/patch builders, TrueUpdate can still accommodate them. In fact, TrueUpdate is even able to work with zip archives and individual data files, should you desire.
World-Class Support
At Indigo Rose, we'll answer your questions quickly and efficiently and treat you with the respect you deserve.
Benefits of Automatic Software Updating
The Internet has created a highly competitive market where users expect immediate results; the prize often goes to the company that reacts the most quickly to changes in user needs and perceptions. In order to streamline software deployment, it is becoming increasingly desirable for software authors to incorporate automated updating abilities into their software.
Software developers, network administrators and end-users alike share in the benefits of update-enabled software. Developers appreciate it for the control it gives them over software that has already been deployed. Network administrators benefit from improved security and better control of network nodes. End-users see update-enabled software as an assurance of quality-a symbol that the developer is there to stand behind their product.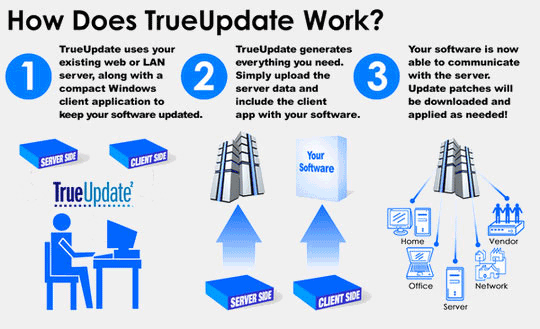 Independent software vendors, consulting companies, IT departments, or any organization that distributes timely software and data can benefit from automating the electronic update process using TrueUpdate.
Competitive Position
Unlike hosted services where the update technology is beyond your control, TrueUpdate is uniquely designed to provide full control over every part of the update process. Every last detail, from the update method to the actual servers where everything is hosted, is entirely within the developer's control. There's no need to rely on the uncertain future of a proprietary web-based update service, pay exorbitant annual fees or wait helplessly during downtimes you are powerless to resolve.
Unlike other solutions that are limited to simply downloading and running a file, TrueUpdate's client can perform a full range of system changes. In addition, because the updates are client-originated using a unique client-pull architecture, with no identifying information needing to be transmitted at all, TrueUpdate completely avoids the legal privacy issues that can limit the application of other services.
TrueUpdate can be configured to work in any situation, the way the developer and their company want to work, rather than being shoe-horned into a generic update system as with other services.