Welcome!
Introduction
AutoPlay Media Studio is the state of the art in CD-autoplay multimedia tools. With its intuitive workflow and drag-and-drop objects, even absolute beginners can quickly achieve impressive results. But despite its world-renown ease of use, AutoPlay Media Studio is a serious development tool. In fact, it's used by thousands of people to create everything from AutoRun/AutoPlay menus and CD business cards, to fully interactive training applications. With AutoPlay, your imagination is your only limit!
What Can I Create With AutoPlay Media Studio?
Quite simply, AutoPlay Media Studio helps you make professional multimedia software. While the product excels at certain tasks like making front-end browsers for CD-ROMs (i.e. AutoRun/AutoPlay menus), that's just the beginning.
Integrating diverse media types such as images, sounds, videos, text, and flash into a single cohesive presentation is what AutoPlay Media Studio does best. In fact, it has been trusted to deliver rock-solid multimedia experiences to millions of people around the world. Users just like you have chosen AutoPlay Media Studio for:
• Multimedia Authoring & Application Development
• Computer Based Training (CBT) Applications
• CD-ROM AutoPlay/AutoRun Menu Systems
• Interactive Marketing Presentations
• CD Business Cards
• Much more
Intuitive Drag and Drop Design
AutoPlay Media Studio has always been known for its easy-to-use visual design environment. Simply drop high-level, interactive objects (images, video, text etc.) onto pages to create instant functionality. Move them into position using your mouse or with the aid of an extensive assortment of alignment tools and grids. Once you've got your interface down, it's a snap to attach powerful actions to various events such as mouse clicks and key presses. Whether it's opening a PDF file, playing a video or showing a web site, the Action wizard makes it easy to choose from the over 865 built-in functions.
About This Guide
This user's guide is intended to walk you through building a sample project: a CD business card for a fictional real estate agent named Ted Sellers. You'll learn the ins and outs of the program interface, and how to perform many common tasks.
The guide is organized into 10 lessons:
Lesson 1: Getting Started
Lesson 2: Graphics and Text
Lesson 3: Working with Multiple Objects
Lesson 4: Buttons, Actions and Pages
Lesson 5: Status Text
Lesson 6: Scrolling Text
Lesson 7: Video
Lesson 8: Audio
Lesson 9: Publishing
Lesson 10: Scripting Basics
Each lesson begins with a brief overview and a list of the things you will learn in that lesson. The lessons are divided into a number of exercises, which are broken down into individual steps. Each step appears in bolded text, with a number beside it so you don't lose your place. Additional information or explanation for each step is included in the non-bolded text that follows it.
Document Conventions
This user's guide follows some simple rules for presenting information such as keyboard shortcuts and menu commands.
Keyboard Shortcuts
Keyboard shortcuts are described like this: press Ctrl+V. The "+" means to hold the Ctrl key down while you press the V key.
Menu Commands
Menu commands are described like this: choose File > Open. This means to click on the File menu at the top of the AutoPlay program window, and then click on the Open command in the list that appears.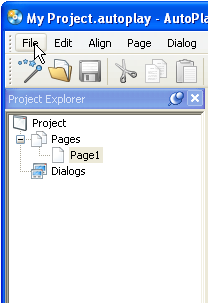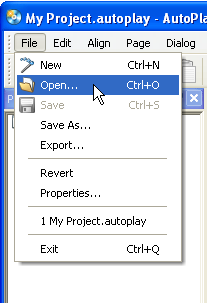 "File > Open" means click on the File menu, then click on the Open command
Typed-In Text
When you're meant to type something into a text field, it will be presented in italics, like this: type "AutoPlay makes me happy" into the Message setting. This means to type in "AutoPlay makes me happy", including the quotes.
AutoPlay = AutoPlay Media Studio
Throughout this user's guide, the name "AutoPlay" has been used as a short form of "AutoPlay Media Studio." Whenever I refer to "AutoPlay," I'm referring to the actual product.