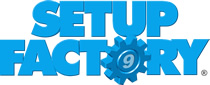 The best way to decide if Setup Factory is the right Windows installer program for you, is to download the free 30-day trial version. The trial version is fully functional, so you'll be able to really "kick the tires" and see what it can do.
To download the free trial version, please enter your information into the request box and click on the 'download' button. We'll email you the download instructions within minutes of submitting your request.
More Information on Setup Factory…

Note: By submitting this form, you agree to receive followup emails regarding Setup Factory Installer Builder for Windows. You may unsubscribe from these emails at any time. We do not share your email address with other companies or put you on a "spam" list. We only use it to keep you informed about Setup Factory and how to get the most out of your free trial.
Download a Free Trial